Keravive Hydrafacial's New Breakthrough Scalp Treatment
August 25, 2022
by Beautiful Body and Beyond
2 min read.
We all know how important it is to exfoliate the skin on your face, but what about your SCALP? Do you ever think about all the gunk that builds up in there? I try not to. Yuck. Riverside, California has an impressive water hardness of around 220 ppm. "Very hard" water starts at 180 ppm! What does that mean for us? Hard water has high levels of minerals such as calcium and magnesium, which leave a residue. This residue builds up over time. Have you ever looked at your water faucet and seen the hard white residue around it? That's caused by hard water! Imagine what it's doing to your scalp! We haven't even mentioned the dusty, dry, polluted air we all deal with on a daily basis. This buildup prohibits moisture from reaching the scalp, resulting in dry hair, breakage and, over time, hair loss. The latest and greatest defense against this is HydraFacial's Keravive treatment!
Who is it for?
Keravive is for anyone looking to improve their overall scalp health. It is especially beneficial though for those with dry, irritated, itchy, flaky scalps. The skin on the scalp is the same as the skin on your face. When the pores get clogged with grime and dead skin cells, it causes inflammation and irritation.
What is treatment like?
This treatment involves three steps.
Exfoliate: Using a hand piece that acts like a tiny vacuum, the esthetician gently suctions off dirt and grime while stimulating circulation.
Stimulate growth: Using a second hand piece, the esthetician applies Keravive's Peptide Complex Solution. It penetrates the scalp and delivers growth factors and skin proteins deep into the scalp.
At-Home-Care: Maintain results with a take-home spray that delivers daily nourishment and hydration to your scalp and hair follicles.
What are the results?
Treatment results in a cleaner, hydrated scalp - free from grime and dead skin. It minimizes irritation, and gives you healthy, fuller-looking hair. Check out this before/after from one of our clients!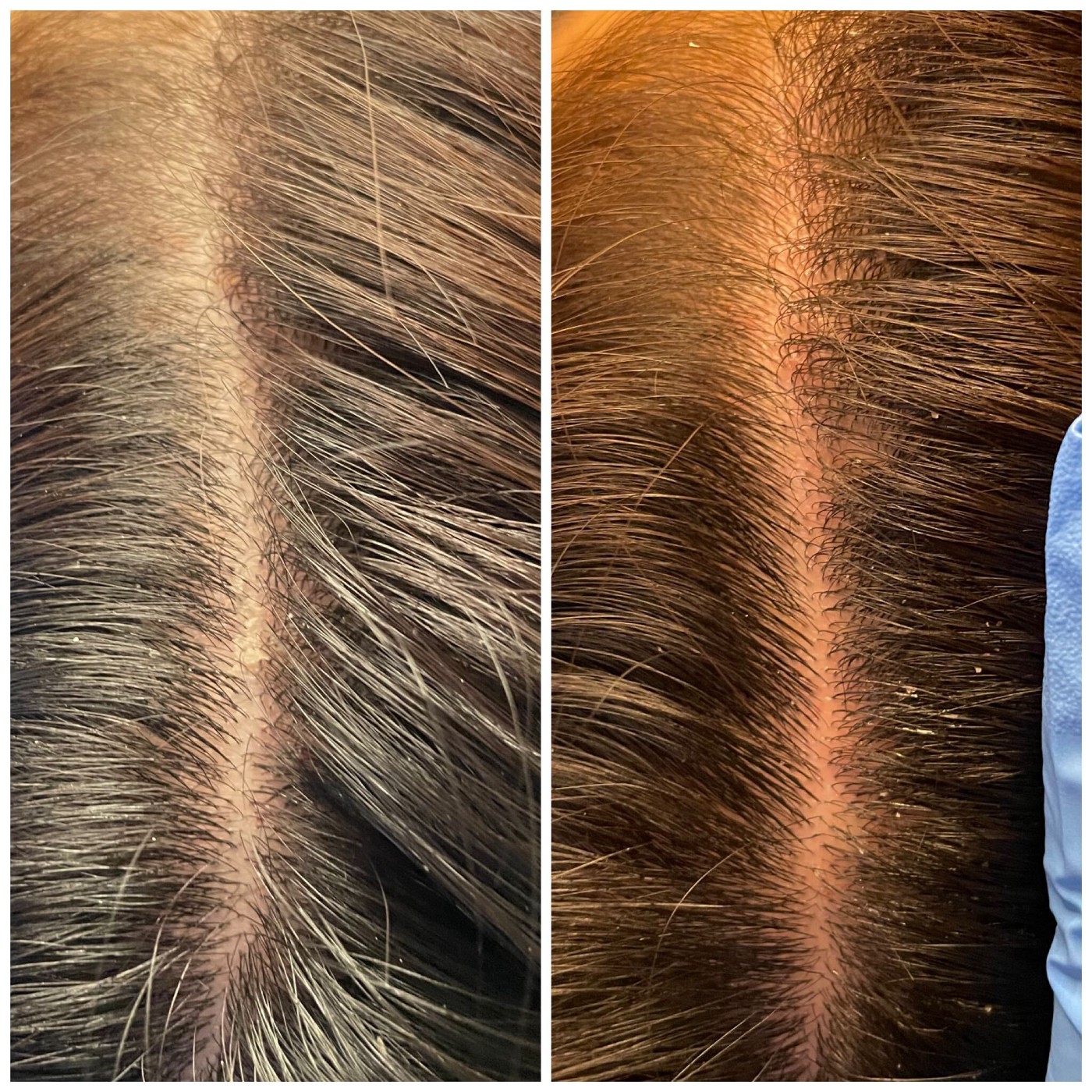 Schedule a Keravive treatment with one of our expert estheticians and see the difference it will make with your scalp!
Related Links